Residential Bowling Alleys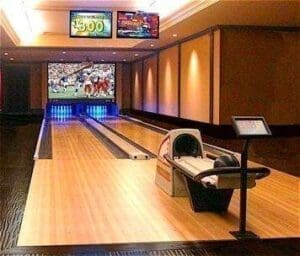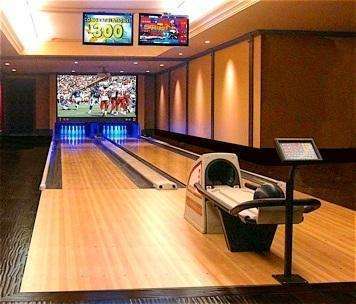 Here at Murrey Bowling, we've built a reputation for the quality of our residential bowling lanes. In fact, we've built bowling lanes all over the world for clients that include Google, the Viejas Indian Casino & resort and even the Air Force Base in Japan. However, we don't just focus on commercial bowling lanes – we also build residential bowling alleys.
Our Residential Bowling Alleys
We strive to build customized residential bowling alleys that fit the unique needs and wants of each one of our clients. We have access to the highest quality residential bowling equipment to ensure that your residential bowling alley is up to par with those found in actual commercial bowling alleys.
Additionally, we streamline the process by doing everything in-house. This means that our services include residential bowling alley design, planning, installations and construction. This means that we can provide unique solutions based on the space available in your residential space, whether you can fit a mini-two-lane alley or you have the space for a full-fledged construction.
Reasons to Build a Residential Bowling Alley
If you're thinking about having our builder install a brand new residential bowling alley in your home but aren't quite convinced, here are a few reasons why residential bowling alley installations are a fantastic idea:
Make it easy to entertain

– If you enjoy having friends and family over to your home on a regular basis, then you'll make it much easier to keep them entertained when you have a bowling alley installed.

Improve your family time

– It's important to spend time bonding with the family, whether it's over a family dinner or during a family game night. Having a residential bowling alley will make it much easier to spend time with the family on a regular basis – after all, who doesn't enjoy bowling?

Add a fun way to get a workout

– Bowling may not be the equivalent to running a marathon, but you'll definitely get a bit of a workout, especially in your arms!

Improve your home's value

– If you ever decide to sell your home, having a residential bowling alley will surely provide you with a unique selling point.
If you want to add a unique and fun feature to your home, consider a residential bowling alley. Be sure to contact us at Murrey Bowling for more information about our residential bowling alley construction and installations, or for information about our residential bowling equipment.