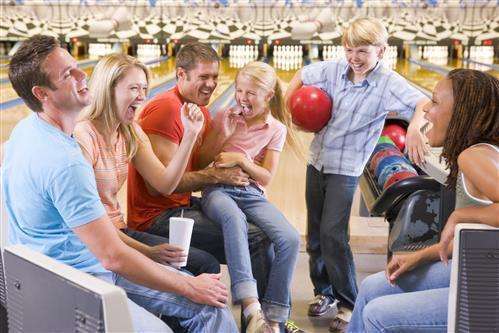 How Bowling Can Increase Confidence in Children
Bowling is an ideal sport for all ages, as it's relatively simple to learn and makes for great, low-impact exercise. Children especially love bowling as it's a fun way to interact with friends and family members with different skill levels. Parents should encourage bowling among children, especially for kids who aren't fond of competitive group sports like football or soccer. Similar to league sports, bowling is excellent at fostering outgoingness and confidence among growing kids. In just a few short games, you'll be amazed to see your child's determination and skill grow exponentially.
Regular trips to the local bowling alley can also benefit shy kids, allowing them to learn self-expression. Unlike fast-paced and loud group sports, bowling fosters friendly chatter among participants in between turns. Even the quietest child will be exchanging bowling tips and cheering on new friends in no time!
Here are some of the reasons why bowling can increase confidence levels, especially among kids:
No Try-Outs Required – For shy kids, league try-outs can be daunting and may prevent them from even considering a sport they otherwise love to play at home. Bowling is a sport that anyone can participate in, and most youth teams accept players of all skill levels.
Provides Real-World Experience – Bowling gives plenty of real-world experience, such as practicing courtesy on the lanes and taking turns while interacting with other bowlers. Bowling also helps kids hone their basic math skills, improving abilities that will be used for the rest of their lives. Also, nothing boosts confidence more than friendly encouragement from a teammate – watch kids light up from positive reinforcement after each turn.
Fosters Peer Interaction – Bowling is a well-rounded activity as it's ultimately a solo sport in a group setting. While peers can be competitive, it's rare that tensions will escalate like they do in other sports. While at the local bowling alley, your child will learn sportsmanship while interacting with peers and making new friends.
Enables Physical Activity – Every sport increases confidence in children as they discover their skills and abilities, however, bowling requires less skill than other activities and therefore makes it easier to see results. Though bowling is easy for fans of all ages, it is excellent exercise and will increase endorphins similar to more-intense sports, burning off excess energy and keeping kids happy.
Gives Rewards – Verbal encouragement goes a long way in increasing confidence, but a physical reward gives kids a memento for their skills. Many local bowling teams for kids regularly give awards (such as trophies) to let kids know how they did. Awards can be given for most skilled player, most improved player, and even for the beginner bowler who exhibited the best sportsmanship. Positive reinforcement gives value to the activity and increases kids' confidence.
Bowling is a fun and simple sport that benefits the whole family. If your child is a bowling fanatic and you find yourselves at the local lanes every week, you may want to consider a home bowling alley! Murrey Bowling makes and installs custom home bowling alley lanes to fit your family's needs. For more info about at-home bowling alleys, please call 310-532-6091.
< Back