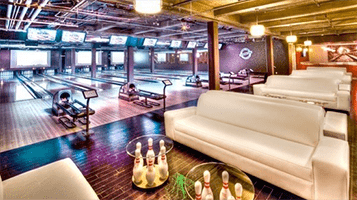 How to Increase Bowling Alley Profits
Bowling is undoubtedly one of the most popular leisure activities. Running a bowling alley is therefore a lucrative business. For you to benefit maximally from this business opportunity, you need to properly market your bowling alley besides upgrading your existing facilities. This will not only attract customers in droves, but also help you establish longstanding customer relations. The following strategies can help you increase revenues at your bowling alley.
Selling Advertising Space
It is no secret that bowling alleys are visited by hundreds of customers at any given time. You need to take advantage of this and offer your lanes to brands so that they can advertise their products and services. You can increase revenues by contacting them and offering them advertising space on your lanes. More often than less, lanes found in bowling alleys have signage over them. Offering the signage to local firms for advertising purposes can be a lucrative source of income.
Prices and Arcades
Part of your sales strategy should include converting your bowling alley into a family fun center. This may include having birthday party packages, video games, and redeemable prices. Keep in mind that kids tend to use tokens very quickly. Including special tokens and redeemable price machines is a way of earning extra income. To make this undertaking successful, you are advised to partner with video game providers so that they can supply all kinds of video games. This way, you stand to attract more clients to your alley.
Incorporating Nightlife
Ever thought about selling alcohol or converting part of your bowling alley into a nightclub? Absurd as it may sound, such a move can turn your alley into a highly profitable business. Bowling, alcohol, and clubbing have a mutually beneficial relationship. It is common to see bowlers holding cans of beer while doing their thing at the alley. Offering nightlife and throwing in alcoholic beverages for adults bowlers at your alley is a strategic move, more so in towns where nightlife is still in its tentative stages. Possibly, you can throw in a DJ and create a dance floor where your clients can dance the night away and have the time of their lives while bowling. This will increase your profits significantly.
Expanding Your Client Base
Besides attracting families, you also need to target working-class bowlers who want to unwind after a long day in the office, the elderly who want to reminisce about the good old days, and even young adults who just want to hang out and have fun. You can even plan special events and discounts that attract various groups. Besides this, you should consider scheduling regular weekly events and theme nights. Such occasions appeal to all kinds of bowlers and therefore, will attract crowds to your bowling alley.
Marketing Your Bowling Alley
Building and maintaining a fashionable bowling alley in itself doesn't necessarily mean that you will attract clients. You need to take a deliberate effort aimed at ensuring that your bowling alley is well known within the locality and beyond. Use every opportunity that presents itself to you to market your center. Advertise your alley in discount coupons, print media, social media, and even through word of mouth.
You should similarly consider taking part in local community events since they help you gain prominence. Right from the start, you need to have a marketing plan that stipulates how your alley will be promoted within the community. Ask for feedback from customers so that you can pinpoint areas that need improvement. This will ultimately translate into profits.
< Back