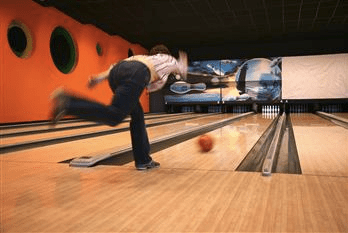 The Many Benefits of Bowling
Bowling is a unique sport that blends hobby with competition, letting you have fun while reaping physical and mental health benefits. The sport is a great way to incorporate a low-impact activity into your workout routine, especially for the elderly or those with exercise limitations. Bowling is also low-cost, and special gear is not required. Besides bowling equipment, available to rent at most lanes, very little is needed to join this sport. These are just some of the many benefits of the game of bowling:
Strengthens Muscles: When you bowl, you use muscles in your arms, shoulders, and wrists, and parts of the lower body. When squatting and pivoting during each turn, you'll strengthen and tone muscles as you play.
Gives Improved Flexibility and Balance: Bowling uses lunging, twisting, and stretching motions that can improve flexibility over time. Additionally, each time you approach the lane, you'll gain balance to help throw the ball and assume a proper bowling stance. Remember, practice makes perfect!
A Good Source of Cardio: The average bowler walks 60 feet per turn, or 6/10 of a mile in a three-game series. Plus, per each hour played, the average bowler burns approximately 240 calories – the same amount of calories burned after jumping rope for 25 straight minutes! Bowling makes cardio fun, letting you relax with friends and get in touch with your competitive side, with the added benefit of improving heart rate and circulation.
An Adrenaline Rush: A sport like bowling taps into our competitive side. Each time you watch the ball roll down the lane, it's a rush to see how many pins will go down. Whereas other sports can cause intense rushes that border on dangerous for your health, bowling is tame enough to get your heart pumping without added risks.
Bowling Is Low-Impact: Bowling is a low-impact sport, which makes it great for the elderly or those with exercise limitations, such as knee or joint injuries. Bowling is a favorite among senior citizens who love to get on their feet and stay active while making new friends.
A Sport with Social Benefits: A social sport like bowling can benefit your overall health. During games and tournaments, you'll make new friends while spending quality time with old ones. Social engagement is important for all individuals, and it taps into our mental wellbeing.
Bowling Relieves Stress: In today's increasingly busy world, it's harder to get a break from phone calls, emails, and other daily tasks. Bowling is one of the most social sports out there, so not only is it a way to wind down after a long week and make new friends, it will also stimulate endorphins and get the blood pumping.

If you're looking for a fun way to jumpstart your exercise routine, try joining a local bowling team! If you're already an active player looking to take your skills to the next level, consider installing a custom home bowling alley from Murrey Bowling so you can practice any time. For info about pricing and available equipment, call Murrey Bowling at 310-532-6019.
< Back