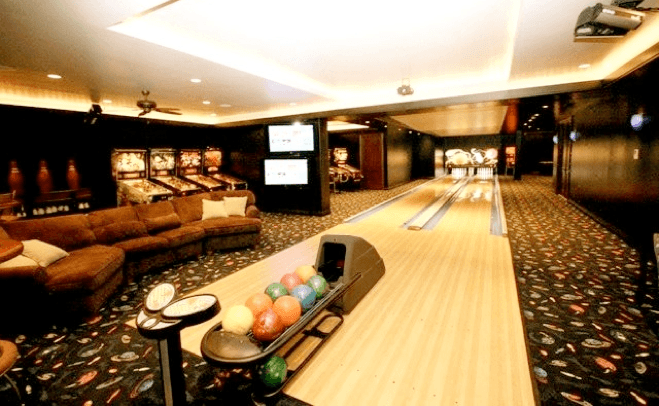 How Much Does a Home Bowling Alley Cost?
Bowling has become a favorite form of entertainment for more than seventy million people across the country. If you are one of these millions who enjoy the thrill and enjoyment of bowling, you should know you can now bring this fun right into your home. As a bowling enthusiast, you may be wondering how much it will cost to bring a home bowling alley into your house.
The Cost of Owning a Home Bowling Alley
If there is one thing that many homes do not have enough of, it's an entertainment system for family fun! One of the best ways to make your home more fun and exciting is to add a home bowling alley. This will boost the value of your property considerably, create a family fun environment, and it is also a great way to attract more bookings if you rent out your property. When you take all of this into account, it is not difficult to see why considering adding a bowling alley to your home is a good choice. Now, you are definitely going to want to understand how much this is going to cost. So, with that being said, below, we are going to take a look at the different factors that will influence how much it will cost for a bowling alley to be constructed so that you can budget effectively.
Style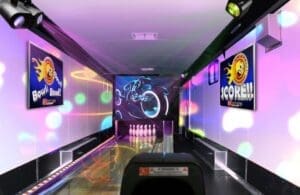 The first factor you need to consider is the style of bowling alley you wish to have. For example, are you looking to create a boutique chic bowling alley? Or, are you looking to create a bowling alley that is suitable for children and family fun? If it is a boutique bowling alley you are interested in, you may want to opt for a media mask video projection screen, which has a 6,000-lumen high output laser projector. However, this is not something you would necessarily have in a family fun style bowling alley. So, the first thing you need to think about is the style of the bowling alley you want to have.
The Space Required
One factor that you will definitely need to consider is the space that is needed for your bowling alley. This is where a lot of people go wrong because they underestimate the amount of space that is needed. You need to make sure that there is enough room for the lanes and equipment, as well as the players. After all, bowling is supposed to be fun. No one wants to be squashed into your bowling alley like a tin of sardines, do they? Considering this from the beginning is imperative because you may need to look into the prospect of knocking down a wall or looking for other ways to create more space. It is better to know your options now than to experience unexpected expenses later down the line.
Location
Where is the location? If it's in Manhattan or Maui for instance, installation could be more due to hotels, travel and other expenses. This is why a 2-lane residential project can run anywhere from $120,000.00 to $195,000.00 or more with installation.
The Equipment
One factor that is certainly going to influence how much you are going to have to pay is the equipment that is required. You should look into purchasing used bowling equipment. For example, a used ball return, furniture, and used pinsetters can all help to reduce the costs. You also do not need to use electronic equipment for your bowling alley as well. If you only have one lane, you would be able to keep track of the scores with paper cards or even a whiteboard. There are lots of different options that do not require expensive electronic equipment, so it is definitely worth looking into this further. You can always make an upgrade at a later date if you wish. Plus, purchasing used equipment does not mean you are going to experience a lack of quality. In fact, you may be able to go for better quality furniture and equipment that you otherwise would not be able to afford. Ultimately, it is all about exploring your options fully, as there are going to be a lot of different ways you can save money and have the bowling alley of your dreams.
There are some other ways to save money when it comes to equipment as well. Looking at different models and variations of the same product can help. For example, if you want a screen for controlling the lanes and scoring, you could save money by going for a standard keypad instead of an LED touch screen. Of course, you may prefer to opt for the latter for the best possible experience. You also need to think about whether you want the equipment to be operated from a remote location or from the bowler's area. You also need to think about whether you want to get an outside interior design team to manage the furniture side of things or whether you want to use our service. You can often find that it can be cheaper by keeping everything under the one roof so to speak.
Logistics
Is the installation going to be in a lower level or an upper level? The latter means special handling is required to get the equipment to the area where it will be installed. Some gated communities make the crew start no earlier than 8:30 a.m. and must be done by 2:30 p.m. and vehicles out by 3:00 p.m. This will make the installation take longer, thus costing more.
Soundproofing and Lighting
A lot of the expense, when it comes to bowling alleys, is the soundproofing and lighting. Let's deal with the former first. Bowling can be a bit of a noisy activity, especially when people hit a strike and celebrate! Because of this, a lot of people want the room to be soundproofed so that it does not impact the rest of the people on the property, and so this will be an added expense. You also need to carefully consider the lighting that you have in the room. This is important because you need to create the right mood and atmosphere. It is also important because you need to make sure that the bowling lane is lit up properly so everyone can see what they are doing. Not only this but the bowling lane tends to light up when it is someone's turn to roll the bowling ball. You also need to consider whether you want any special lighting effects when someone hits a strike. Of course, this looks amazing but will be an added expense, so you need to consider whether you have room in the budget for this and, indeed, if it is something you want.
Customization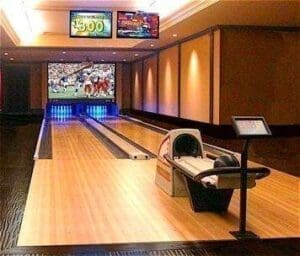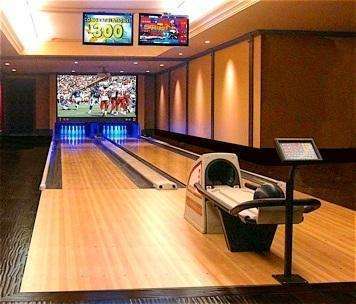 Of course, one of the best things about having a bowling alley is that you are going to be able to customize it to suit your needs and tastes. However, with customization comes expense, and so this is going to have a massive influence on the total cost. There are so many different ways that you can customize your bowling alley, from the decor in the room to the pinsetter that you use. This is why you need to consider everything that you want from your bowling alley so that you can total it up and determine how much it is going to cost. If you then want to make savings, you can look at making changes to your different customization options and see how this has an influence on the total expense. Shopping around for the best deal will always prove beneficial in the end.
Other questions to ask yourself when figuring out the expense
– Do you want a $16,500.00 computerized automatic lane conditioning machine or do you plan on conditioning the lanes by hand?
– Do you want a custom color or custom theme bowling lane?
– Do you want the lane to look like a coral reef or a neatly manicured golf green or even insert a picture of your St. Bernard down by the arrows?
– Do you want a custom graphic for the masking unit that could be anything that could show off your own style, personality or flair?
– Do you want sidewall coverings?
The options and customization's are almost endless. Proper planning with your contractor before the project begins will give you the best results in the end.
We hope that this has provided you with everything you need to know about the cost of adding a bowling alley to your home. There is no denying that there is a lot that needs to be considered when it comes to the total cost of a bowling alley for your home. However, there are also a lot of different ways to reduce the costs as well, and so it is definitely worth looking into this in further detail. If you explore the used market, you are going to find a lot of different options in terms of equipment and furniture, and this will help you lower the expenses considerably while not suffering from a lack of quality or style.
If you would like more information about creating a bowling alley in your home, please do not hesitate to get in touch with us at Murrey Bowling. We will be more than happy to answer any questions that you may have and provide you with an accurate quote for these services. It's our job to find out what you are looking for and put a package together that best suits your needs.
< Back